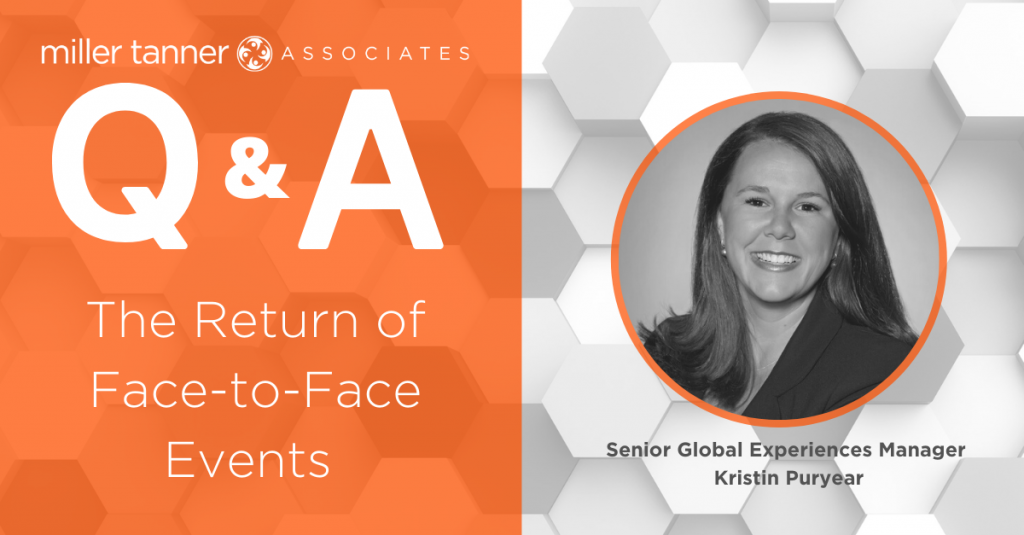 With the possible return of face-to-face events in the near future, many companies are considering how to best move forward with their events later this year and beyond. Senior Global Experiences Manager Kristin Puryear shares her insightful tips on how to plan your face-to-face events while considering both the unknowns and the possibilities ahead.
What are the most common hesitancies companies are experiencing now with regards to planning their face-to-face events?
I think one of the biggest hesitancies is whether the audience is ready and would be willing to accept the invitation. There have been so many safety precautions and innovation to prepare for businesses to resume face-to-face events, from airlines to hotels and everywhere in between. Miller Tanner Associates (MTA) can easily help a customer feel comfortable before moving forward. A big part of this is establishing a clear and honest communication plan with the attendees based on current working knowledge of guidelines and policies at the national, local, and venue level.
Should a client have any doubts, we can organize polling to make sure face-to-face will be well received. If the results prove the audience isn't ready to travel on site, MTA is happy to offer our hybrid or virtual solutions into the mix.
Based on the feedback we are receiving currently, there is an overwhelming amount of people who are ready to get back to meeting in person. It is very exciting!
What advice do you have for companies considering a face-to-face event this year?
We advise more lead time as we anticipate the demand being extremely high for events in the U.S. in August, September, and thereafter. The rest of the world will soon follow once vaccinations have had time to reach each corner of the world.
Although we know many events shifted to a virtual format in the last 15 months, there are many that were also placed on hold and have been eager to book for some time waiting on a safe window to execute.
Between the backup of events over the last twelve months and the normal demand in the fall months, clients should anticipate a difficult time finding space if they only have several months lead time in sourcing.
Given social distancing guidelines, groups will also be using more space than normal. Groups that previously needed a ballroom for 100 attendees might have contracted a ballroom for 200 in order to include distancing and other CDC considerations at the time of contracting. This is another factor that could make it difficult in finding space with a limited amount of time.
Are hotels allowing any additional provisions for booking?
At first there was lots of flexibility being offered to encourage events to book with considerations to easily postpone or cancel. Now that face-to-face events are returning and we are seeing positive progress as it relates to the pandemic, we anticipate that hotels will be more inclined to offer credits to rebook if a change or setback occurs to encourage future business.
There are factors that MTA can put in place to make the client feel comfortable before officially putting vendor contracts in place and we partner with our customers to make clear decisions throughout the planning process to be as cost reflective as possible for their event.
How are hotels ensuring safety for all face-to-face events?
Here in the states, many, if not all, are following CDC regulations. We have been watching closely and comparing all regulations state by state. As of recent news, it seems like all states here in the U.S. should be open for events at full capacity as of July, 1 2021, so great news if you were targeting to host a late summer meeting or event.
Outside of the U.S., we are tracking all regions and advising clients accordingly. Historically, many of our events in Europe, Asia and Latin America have typically merged countries within each region. We believe and have already organized (yes, this year!) face-to-face events within a single country as a first step. Once some of the restrictions are lifted and quarantine periods are reduced, we should see the events grow and expand to once again become more regionalized.
How can companies best prepare for planning their events this year?
Timing – Get ahead, have a plan, and a backup plan. By now, we all know too well that things don't always work out exactly as we envisioned. Build in time to know there might be a few detours. Best of all, MTA has contingency planning, including Plan H (hybrid) and Plan V (virtual), to ensure a seamless overall experience should you need to implement a backup plan.
Budget – Work with our team in finding something that works for your project. Keep in mind that budgets might be built out assuming a full face-to-face event, but we can reallocate funds to cover audience participation in a second format – hybrid, virtual, on-demand, etc. MTA has 10+ years of virtual and hybrid experience, so there is no need to look for another vendor when the plan shifts.
Survey – Once your team has an ideal plan in place, survey the audience to make sure they are in alignment before committing to any next steps which might have huge financial implications.
Plan – I believe it is best to plan for the worst-case scenario as far as regulations and guidelines. Hopefully, we continue to move in a positive direction for the duration of the planning window and things will become more relaxed as we move forward finalizing the details of your event. Once all is finalized, plan to give your audience a detailed play-by-play of how the event will look and feel and what is expected of them as an audience member. It is understood that things will look different in 2021, so it will be important to manage expectations before and during the event to provide your attendees with a good comfort level to ensure engagement and success.
For more information about events this year, contact our team!
Latest posts by Miller Tanner Associates Team
(see all)