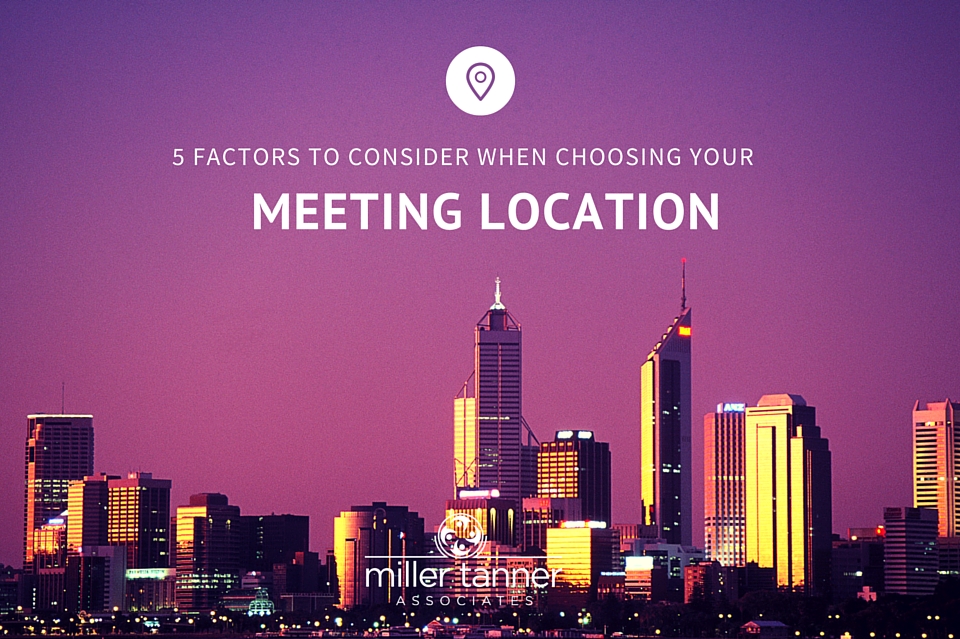 Have meeting, will travel…but where?
One of the very first steps in planning your meeting is determining the ideal location. With so many choices – from Paris to Dallas to Seoul – how do you narrow down your options to determine the city and country that will be the best fit?
Ultimately, your budget and the general locale of your attendees can tell you a lot about where and how to move forward in finding the best fit for your meeting location.
Consider these 5 factors that we've compiled to help you decide where to host your next corporate meeting:
1). Convenience / Proximity to Attendees (distance, time, direct flights, etc.)
Steer clear of long travel times and flight changes that can be a major deterrent for your attendees. Instead, select meeting locations that are time efficient for travel. This will keep costs down for you while keeping your meeting attendees "happy travelers".
Miller Tanner can offer multiple meeting city options for your meetings. Together we can compare prices and availability of your preferred dates while considering proximity and travel convenience.
2). Price / Cost Effectiveness
Having planned thousands of global meetings, we can offer several options to consider while keeping your meeting cost-effective and within budget.
Within a week of our initial contact, we provide you with an assortment of hotel options and quotes, so that you can compare all expenses involved, including travel, ground transportation, hotel costs, meal prices, and taxes, for various meeting locations, cities, and hotels.
3). Safety
Safety is as much of a top priority for you as it is for us. Though emergencies are rare, the unexpected can happen. It's good to have a thorough safety plan in place should such a situation arise.
Identifying what safety measures will be taken into account, both at a city and country-level as well as within the actual meeting venue itself is an important factor to consider when choosing your location.
It's good to know upfront the safety plans of the hotels that you are considering in case of an emergency. You'll want to make sure that those hotels can provide extra hands on deck and will work with you should a circumstance arise for your event or your attendees.
As meeting planners, we monitor travel warnings, threats, and medical outbreaks that could potentially put your meeting and its attendees in jeopardy. Should your meeting be faced with an emergency, we can help find a solution to keep your meeting on track.
4). Meeting Guidelines
Oftentimes, your meeting has set parameters that you'll need to workaround. As meeting planners, we take these guidelines into considerations to find a location and venue that meet all of your meeting requirements. MTA has a roster of hotels from which to choose so we can select a location and venue that falls within your meeting's established guidelines.
5). Attractiveness
Last and certainly not least, another factor to consider when targeting your location is choosing a city that is attractive to the attendees. If culture or off-site touring is an important aspect of your meeting, you'll want to decide on a location that provides a memorable experience for your attendees while also staying within your guidelines. It's always an added bonus to consider a city that will draw interest from your invitees.
Need the inside scoop on our top international event recommendations? Check out our location guide based on culture, location, budget and more.
Also, check out these additional resources to help you find the right fit for your next meeting location.
Ultimately, the goal is to find a meeting location that is not only memorable but also safe, convenient, and cost-effective while staying within the parameters of your company's guidelines. If Miller Tanner can assist you in determining the perfect location for your next event, we'd love to help you make that happen.  
Latest posts by Miller Tanner Associates Team
(see all)