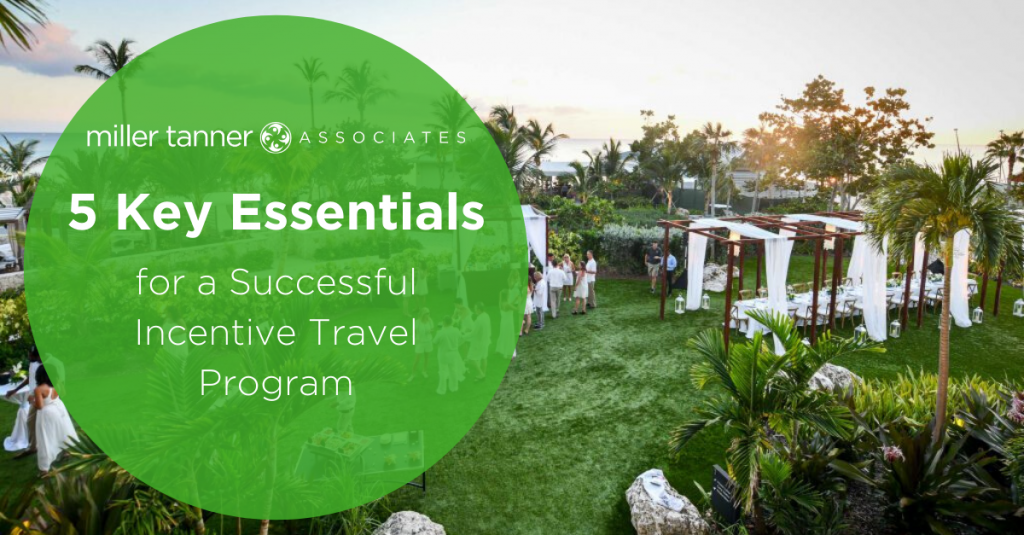 Miller Tanner Associates knows first hand the value of recognizing, rewarding, and investing in employees through internal incentive programs.
We aren't the only ones who know the value. In fact, Incentive Research Foundation (IRF) conducted a study which concluded that incentive travel programs strongly impact:
Motivation
Retention
Performance
Organizational culture
Business results
The Impact of Incentive Programs
This research conducted by IRF determined that the combination of the following five essential elements defines the core of the successful travel program:
The earning and selection criteria for the reward were clearly tied to business objectives.
Communication about the program and the progress participants were making toward goals was clear and consistent. Anticipation built throughout the year and kept employees motivated to achieve their objectives.
The design of the travel program, including desirable destinations, interactive sessions and leisure time for the earners, added to the overall excitement.
Executives and key managers acted as hosts to reinforce the company's commitment to the reward program and recognition.
The company kept detailed records that prove the productivity of the earners and their contributions to the company's financial performance.
The study also found that in order to maximize the benefit of an incentive travel program it must also include:
Recognition of earners
Networking opportunities for top performers to build relationships with other top performers and key management
Collaboration among top performers and management about best practices and ideas
Motivation of earners to continue to achieve high performance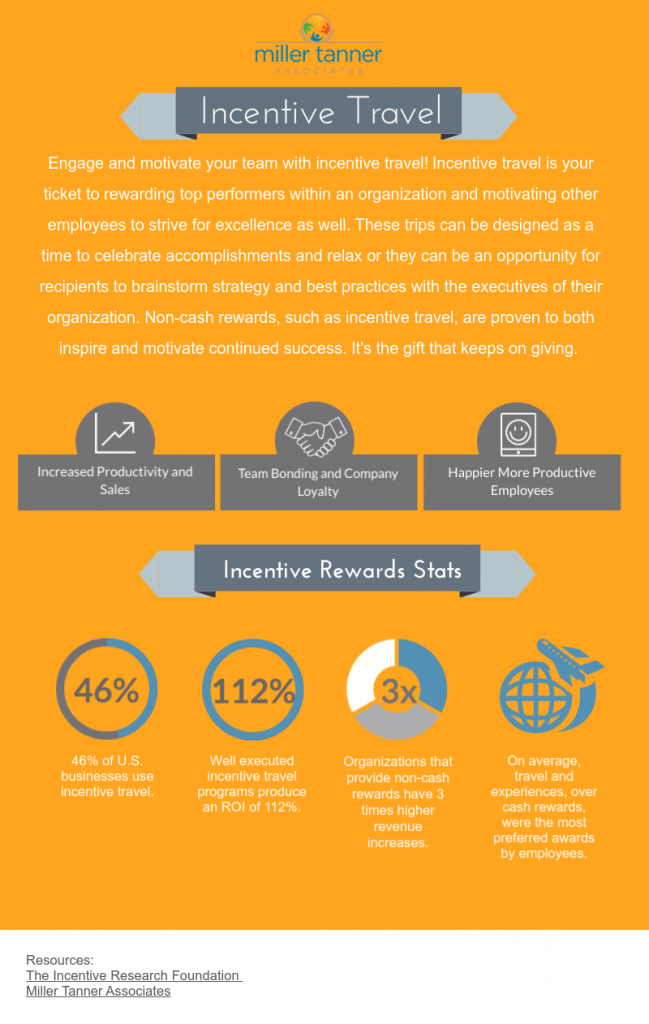 The study concluded that employees are motivated by both the incentive travel award and the recognition they receive from participating corporate leaders. Additionally, incentive travel programs are an important factor for retaining top performers within a company.
This study suggests that when companies use incentive travel/rewards programs as a way to invest in their employees they are more likely to gain better business outcomes as a result.
The event planning team at Miller Tanner Associates knows exactly how to create the ultimate, rewarding experience that will recognize the hard work of your top producers. We can help design and deliver an incentive travel experience that accomplishes the 5 key essentials mentioned to ensure a successful and memorable incentive program event for your team.
For more ideas on how you can create a rewarding experience for your top producers, click here.
For the full details regarding this study, visit IRF.
Contact our team to learn more about how we can plan your upcoming incentive travel.

Latest posts by Marnie Miller Battistini
(see all)