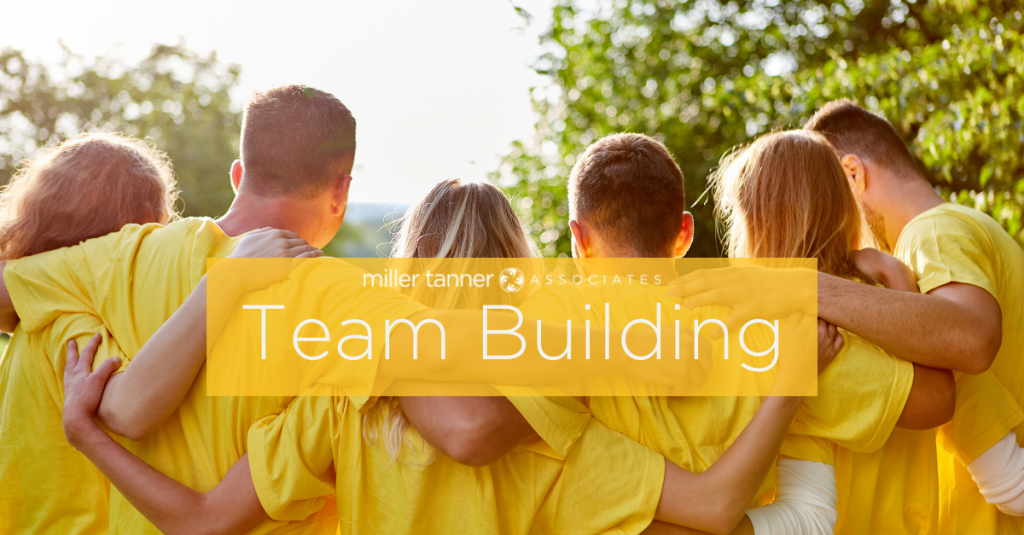 As you read our how-to guide for corporate team building activities, you'll learn:
Practical Ideas for team-building exercises, group events and more
The benefits of your team-building efforts
How team bonding activities can help you build a positive company culture
What do you think of when you hear the phrase "team building?" Like many workers in corporate America, your mind might immediately go to unpleasant memories of awkward group activities or boring team bonding events.
Unfortunately, team building tends to get a bad rap, and there are plenty of poorly planned team building games and activities out there that aren't exactly helping. But when done well, it can be a fun way to strengthen workplace relationships, improve communication skills, and boost employee engagement.
Your organization can reap the benefits that come with happy employees and a collaborative work environment, all while having fun at the same time.
The Benefits of Team-Building Events and Activities
So, do team-building activities actually work? Research says yes.
Setting up events, activities, and outings that encourage bonding and communication can create opportunities to build a stronger, more effective team. When you consider the ways in which a great team-building experience can benefit both the team members and their employer, it's easy to see why so many organizations are making team building a staple of their company culture.
A boost for workplace morale and employee motivation
Close to 80% of workers value having fun at work, with many attributing their job commitment to a strong sense of community. You probably don't need statistics to tell you that happier employees are always a plus, and team events offer a simple way to give morale a jumpstart.
Another thing to keep in mind is the significant growth in many companies' remote workforce. About 20% of virtual teams have noted that collaboration can be difficult, which isn't surprising when you realize that many remote employees almost never have the opportunity to interact outside of basic work tasks. Luckily, there are some great options for virtual team-building activities that can help bridge the game between on-site and remote teams in a digital setting.
Better communication among colleagues and different teams
Employers might assume that socialization outside of work-related topics is something that will detract from employee efficiency. But actually, socializing among team members supports better communication by more than 50%. And while these casual conversations could be something as simple as a water cooler chat about a new TV show, why not set up more productive opportunities for your team?
Increased profitability
You might think that the concept of employee engagement is a "feeling" that must be nurtured in the workplace, but it's actually a tangible pattern of behaviors. Team activities are a concrete way to put engagement into practice, which then helps your staff do their best work.
In turn, highly engaged teams can bring in a more than 20% increase in profitability in the form of less absenteeism and lower turnover. When you translate that into revenue growth, companies with engaged employees can bring in 2.5 times more – if that's not a solid return on your investment, we don't know what is.
Reductions in workplace burnout
A shocking 61% of employees are burned out, with more than 30% reporting that they experience extremely high levels of stress in the workplace. Beyond the health and wellness of employees, stress can also seriously undermine the working environment in a multitude of negative ways.
Ideas for Team Building at Work
Unusual team-building activities can be a lot of fun, but that doesn't mean that you always have to think outside the box, either. With a mix of simple, no-fuss team events and more elaborate activities, you can facilitate bonding and build team spirit with ease.
Here are some of our favorite team-building activity ideas, including fun games, casual hangouts, and professional development opportunities your employees will enjoy.
1. Volunteering and Corporate Social Responsibility (CSR)
When group members are able to give back to the community, they can foster a deeper sense of purpose and feel united through a charitable team bonding activity. Volunteering events and projects also connect to the principle of Corporate Social Responsibility, which has become increasingly important for organizations of all sizes and types.
Some ideas for this type of team building activity include:
Organizing a clean-up effort of a local space, such as a community park or nature preserve
Inviting small teams to participate in Adopt-a-Family programs during the holiday season, with each team working together to support a family in need
Signing team leaders or an entire group up for a charity walk or run
Planning an entire day (counted as a paid workday) for a team outing to volunteer at a local homeless shelter or charity organization
2. Physical Team Building Activities
Physical team activities can be an excellent way to get both your team's blood and creative juices flowing. Especially for staff that usually work in an office environment, physical activity is a welcome change from the daily routine. Plus, these fun challenges can promote creative thinking and problem solving, plus set up the building blocks for increased confidence and friendly competition.
Here are a few ideas for team activities with a physical element:
An indoor or outdoor scavenger hunt that puts smaller teams in competition with each other
A trip to a local escape room, where they'll have to use both physical and mental skills to conquer a shared challenge
Go-kart racing at an area venue
3. Cultural Experiences
As we learn more about the value of cultural and historical awareness in the workplace, we've seen an increased amount of interest in group activities that can build both. The learning that occurs in a shared environment can translate into useful work skills while simultaneously helping employees bond in a meaningful way.
Some ideas include:
A shared trip to a local historical museum or cultural venue, perhaps to attend an event or performance
A potluck where each employee brings a favorite dish from their culture or family tradition
4. Professional Development and Training
Aside from the obvious perks of professional development and skill-building, high-quality training events can be exactly what your team needs to strengthen their problem-solving skills and sense of connection. Keep in mind that simply delivering a training webinar isn't necessarily enough to spur team building; instead, you'll need to be intentional about creating an "experience" that checks all the right boxes.
Our favorite ideas for professional development and team building include:
Assigning specific topics to small groups, then having them work together to teach the rest of the team a new skill or concept
A group outing to an industry conference or training
5. Dining Together
Do team lunches count as team building? They absolutely can. Sharing a meal is one of our society's foundational ways to build relationships, and many benefits can come from a team enjoying lunch together. It's important to create a laid-back atmosphere to allow for casual chats, inside jokes, and laughter to contribute to stronger connections.
Some ideas include:
A dinner and karaoke night hosted at a neighborhood restaurant
A monthly team lunch for department teams or small groups
A fun game-themed lunch event, complete with a board game tournament and an employer-provided meal
Facilitate Meaningful and Fun Team-Building Events with Miller Tanner Associates
Whether you're planning a face-to-face meeting, a virtual event, or something in the middle, Miller Tanner Associates can help you plan and implement team activities that have a positive impact on your company culture. We understand what it takes to pull off an event that achieves its goals, and we know how to do it in style.
If you're ready to put team building to work for you, we would love to help you get started. Connect with the Miller Tanner team to start bringing your team-building event ideas to life today!
---