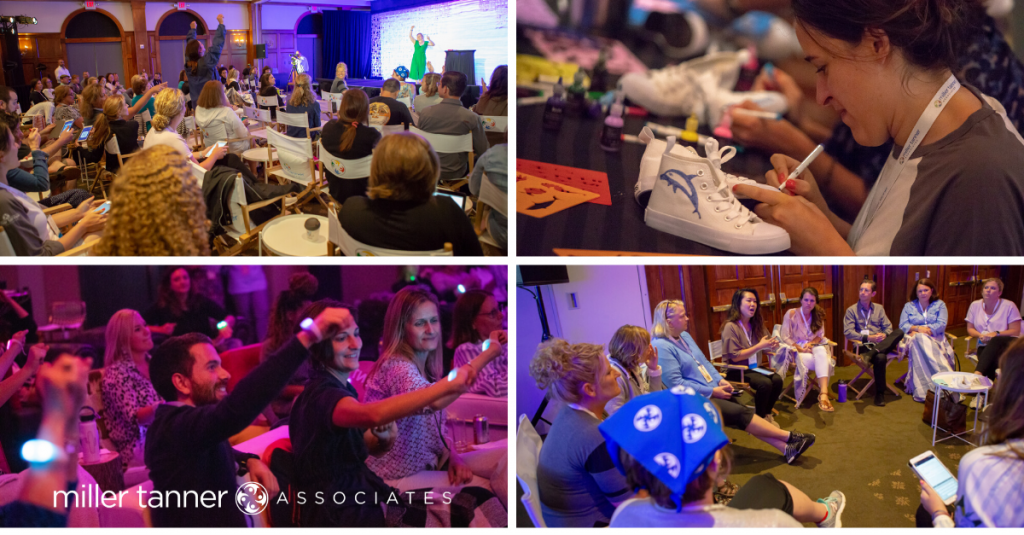 Bring these popular ideas to your next corporate event experience for an unforgettable experience.
1. Include Altruism, Wellness, and Corporate Social Responsibility (CSR)
Tap into the emotional intelligence of your audience by bringing a more altruistic midset to your event. This is an important piece of everyday life for individuals so why not showcase at your event to inspire your attendees.
Some ways to do this:
Include zones where attendees can focus on wellness aspects like a yoga zone or massage chairs.
Schedule outdoor breaks that allow your attendees the opportunity to get outside, breathe fresh air, or take a brisk walk.
Focus on others with an onsite CSR project built right into your meeting.
Be mindful of work-life balance and incorporate concepts into your event.
2. Content is Key
With so much easy access to information 24-7, it's vital that your event content is engaging in a way that isn't just added white noise among the barrage of information.
"Keeping your audience engaged means more than simply entertaining them. To engage an audience isn't just to hold their attention, but to hold their attention for a thoughtful purpose…stimulating the five senses can do wonders, as long as it serves to keep the audience focused on a thematic message," reports Event Manager Blog.
3. Listen to Your Audience
How will you know that your content was engaging? Simply, by listening to your audience through their feedback. Post-event surveys allow you to evaluate the return on the experience (ROE) so that you can continue to improve your participants' experiences at future events.
4. Add the Element of Surprise
By adding an element of surprise to your event, you keep your audience more engaged. This can also create a more memorable experience while adding to the WOW factor.
Some ways to do this:
Create an interactive mystery element, for example, escape rooms or a murder mystery dinner.
Provide unexpected gifting suite/baskets or even a handwritten note from team leaders.
Plan surprise entertainment or an outing around the host city.
5. Learn from Neuroscience
We can learn a lot about attendee behavior from emerging neuroscience data. What creates better social opportunities? How can we improve attendee knowledge retention? How can we boost engagement? These are all questions that neuroscience can provide clues for answering.
Plan breaks in your agenda, preferably every 20 minutes; it improves engagement, learning, and attendees' overall wellbeing.
Build in time for your attendees to process the information being learned. This can be done through small groups, break-out sessions, or individual time spent writing down what they've learned.
Let the Miller Tanner Associates team guide you through the complicated task of planning an event experience that will yield measurable success.
Resource: Event Manager Blog
Latest posts by Miller Tanner Associates Team
(see all)