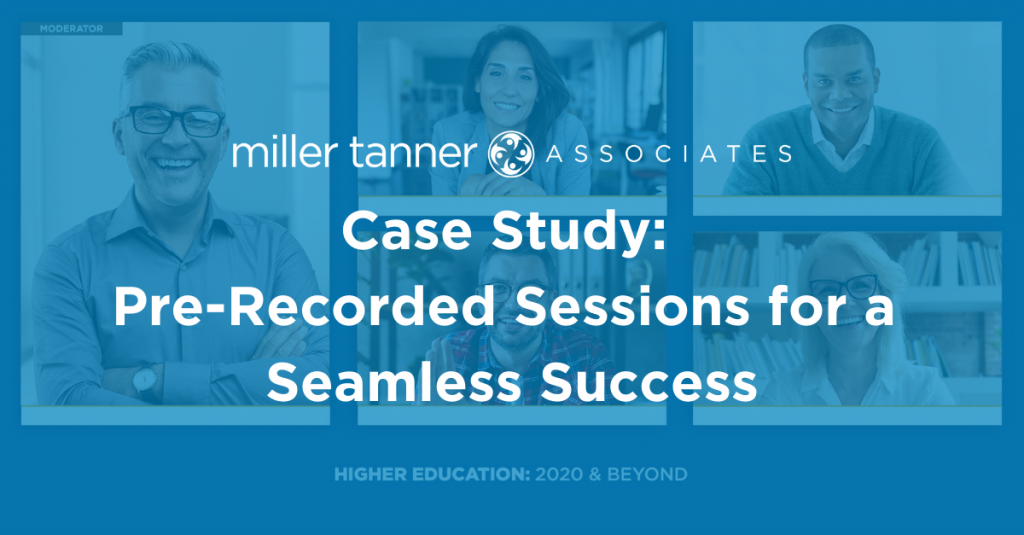 The Event
P3∙EDU an invitation-only event bringing together a select group of university leaders and private company CEOs to network and share best practices around public-private partnerships in higher education.
Challenge
As a result of the pandemic, P3∙EDU was forced to cancel their in-person leadership conference in April 2020. With a demographic of CEOs, presidents and provosts of universities, and private companies, they needed a way to maintain their brand and level of excellence. The team was looking for a partner to translate their face-to-face experience into a virtual one, while maintaining the attendee and sponsor value of the paid event.
One complex challenge was reconfirming the availability and attendance of the 106 speakers and coordinating times for multiple speakers and 26 sessions to be prerecorded.
Because the content was so robust it was essential to make the event available on-demand afterwards in order to give attendees the opportunity to watch sessions at their availability.
A powerful virtual platform that could accommodate all of the content in addition to on-demand viewing was critically important to the overall success of the event.

The multifaceted agenda had to be designed in such a way that it was consumable for the attendees in a virtual setting.

The client needed a platform that was more sophisticated than Zoom. They needed our expertise and guidance to design a platform that would showcase the best of their content and the best of their brand.

The client wanted to make sure that the sponsors felt valued since the sponsors had originally invested in the face-to-face event.
Solutions
Dynamic Platform and Focused Agenda
Through our extensive multi-platform expertise we were able to select a platform with dynamic features set apart for this particular event such as:
complete event site branding
allowing attendees to "save their seat" in their breakout sessions
networking opportunities
showcasing sponsors through the resources section of the event site
seamless agenda set up with the ability to show multiple tracks
on-demand capabilities
Our team also branded the entire event site. We designed the look and feel of the event within the virtual platform and created the intro videos used to elevate the experience of each session.
In order to build out the platform, we devised a method to seamlessly share information among the presenters with our team to create the agenda and coordinate the full development of content for the 26 panels.
Remote Captures and Strategic Pre-Event and Day-of Production
Production quality increases significantly with a pre-recorded event and allows the ability to control the outcome, and add an overall elevated branding and production experience.
With an event of this magnitude, our team advised prerecording the sessions given the number of speakers and sessions involved in the two-day event.
This allowed our team time to edit and present sessions using branded video templates minimizing day-of logistics for our client while creating a seamless virtual experience for the attendees and sponsors.
MTA team coordinated and scheduled 106 speakers to remotely record each session (multiple speakers per session). This required a lot of preplanning to coordinate this effort as scheduling had to be conducted 2 weeks in advance to accommodate busy calendars.
The speakers were given direction and coaching from MTA. Moderators were provided special tech kits with camera and lighting.
Because the bulk of the presentations were prerecorded, we designed strategies to create real-time experiences, such as the breakouts, live Question and Answer (Q & A), chat, and a comprehensive resources page to further ensure engagement.
Sponsor Visibility
Since sponsor visibility was an important element, our team designed the breakout sessions to support sponsor recognition and presented the opportunity for sponsors to network with attendees face-to-face based on interest groups.
Breakout sessions were live 30-minute sessions hosted by the sponsors. And the sponsors chose the topic of discussion allowing them to create focused content to present.
Our team provided best practices and support to the sponsors in advance with speaker coaching and engagement strategies. Our team joined each session prior to the breakouts to ensure that sponsors were prepared and had what they needed.
Results
Our team did an amazing job of consolidating information, putting it together and creating a very streamlined event. It had its own identity. We stayed focused on our priorities and the end goal which is excellent production and a high-end, high-caliber virtual event.

Melissa Eggert, Global Experience Manager, Miller Tanner Associates
P3∙EDU experienced high attendance for a virtual event – 80%. They were even able to accommodate last minute registrations, increasing ROI further.
Data gathered at the event — minutes spent per panel, content engagement results, for example— enabled P3∙EDU to plan content for future events and assist in attendee outreach.
Most important, collaborating with MTA for their virtual event increased their exposure and that of the sponsors.
Moving forward, our partnership with P3∙EDU was such a success that they will be integrating even more virtual components into their events, even when they can gather again face-to-face.
Latest posts by Miller Tanner Associates Team
(see all)